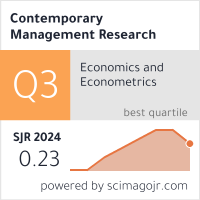 PLEASE NOTE:
CMR does not charge authors any cost. No publication fee. No submission fee.

The Contemporary Management Research is a double-blind reviewed academic journal. All theoretical, empirical and applied manuscripts will be considered for publication.
The external environment for all enterprises is rapidly changing. Global competition, technology development, global climate change, and many emergent business issues formulate significant challenge to business managers. Thus, the Contemporary Management Research has made a deliberate decision to re-focus its scopes on the recently development of contemporary management. From now on, we encourage scholars to focus their research on the emergent issues rather than traditional issues in business fields. We hope to narrow down the scopes of Contemporary Management Research in order to provide up-to-date knowledge for business management and academic researchers.
The prefer scopes include but not limited to the following topics:
- AI application: Application and impact of Artificial Intelligence (AI) in business management
- CSR/Ethic: Corporate social responsibility and business ethic
- EC: Electronic commerce and mobile commerce
- Fintech application: Application and impact of financial technology in business management
- IS/IT and Internet: Application and impact of advanced IT/IS/Internet in business management
- Marketing: Marketing and consumer behavior in Internet age
- Sustainable: Enduring commitment to environmental principles in business management.
- Technology, entrepreneur and innovation: Business management enabled by technology, entrepreneur and innovation.
- Other contemporary management issues: Contemporary new management issues in all fields

EDITORS AND EDITORIAL ADVISORY BOARD
Editor-in-Chief:
Chih-Chien Wang, National Taipei University, Taiwan, https://orcid.org/0000-0001-8940-3655 
Executive Editor:
Yann-Jy Yang, National Central University, Taiwan.
2022-2023 Editorial Advisory Board: (Ranked by Academic Field and by Last Name)
CSR/Ethic: Corporate social responsibility and business ethic
Mazni Abdullah, University of Malaya, Faculty of Business and Economics, Kuala Lumpur, Malaysia, mazni@um.edu.my https://umexpert.um.edu.my/mazni https://orcid.org/0000-0002-9591-036X
E-Commerce and Management Information Systems
Namjae Cho, Hanyang University, Seoul Korea, njcho@hanyang.ac.kr http://ww.biz.hanyang.ac.kr 
Wen-Chen Hu, University of North Dakota, School of Electrical Engineering and Computer Science, Grand Forks, North Dakota,USA wenchen@cs.und.edu http://wenchen.cs.und.edu/
Khalil Md Nor, Universiti Teknologi Malaysia, Azman Hashim International Business School, Johor Bahru, Johor, Malaysia, m-khalil@utm.my, https://business.utm.my/khalil/
Wen-Lung Shiau, Zhejiang University of Technology, Hangzhou, China, macshiau@zjut.edu.ch
Qun Zhao, Ningbo University, China, zhaoqun@nbu.edu.cn, https://www.ndky.edu.cn/jsfc/8583.jhtml , https://orcid.org/0000-0003-3033-5410
Management, Organizational Behavior and Human Resource
Samuel Anantadjaya, IULI-International University Liaison, Tangerang Selatan, Banten, Indonesia, ethan.eryn@gmail.com, https://old.iuli.ac.id ,https://orcid.org/0000-0002-9256-9186 
Marinah Awang, Universiti Pendidikan Sultan Idris, Perak, Malaysia, marinah@fpe.upsi.edu.my, https://orcid.org/0000-0001-7734-6366 
Sang Long Choi, Raffles University, Johor Bahru, Malaysia, cslong_1@yahoo.com, https://scholar.google.com.my/citations?user=mAjVbbIAAAAJ&hl=en
Neha Gangwar, IILM Graduate School of Management, India, gangwar.n12@gmail.co https://www.iilmgsm.ac.in/faculty/ https://orcid.org/0000-0002-0876-1707
Yanki Hartijasti, Universitas Indonesia, West Java, Indonesia, yanki.hartijasti@ui.ac.id https://scholar.ui.ac.id/en/persons/yanki-hartijasti, https://orcid.org/0000-0002-5933-5476
Vui-Yee Koon, Sunway University, Kuala Lumpur, Malaysia, vuiyeek@sunway.edu.my, https://university.sunway.edu.my/profiles/subs/dr-koon, https://orcid.org/0000-0001-5009-3370
Ricky Wong, University of Hertfordshire, London, United Kingdom, r.wong3@herts.ac.uk https://www.herts.ac.uk/contact-us/phonebook/search?meta_S=hertfordshire+business+school&collection=herts-contact-directory&meta_t=W* 
Marketing
Shih-Chih Chen, National Kaohsiung University of Science and Technology, Taiwan,  scchen@nkust.edu.tw , https://scholar.google.com/citations?hl=en&user=djKXUf4AAAAJ, https://orcid.org/0000-0002-0039-421X
Yu-Ping Chiu, National Taiwan Normal University, Taiwan, ice740201@ntnu.edu.tw, https://www.gac.ntnu.edu.tw/?page_id=5539, https://orcid.org/0000-0003-1488-898X
Marcin Gąsior, Lublin University of Technology, Poland, m.gasior@pollub.pl, http://en.wz.pollub.pl/pl/departments/department-of-marketing 
Deepak Srivastava, PSIT College of Higher Education, Kanpur, India ds@psit.ac.in  www.psitche.ac.in
Ching-I Teng, Chang Gung University, Taiwan, chingit88@gmail.com https://0000-0002-3976-5399 
Technology and Innovation Management
Chutisant Kerdvibulvech, NIDA, Thailand, chutisant.ker@nida.ac.th http://www.gscm.nida.ac.th/~chutisant/
====================
2019-2020 Editorial Advisory Board: (Ranked by Academic Field and by First Name)
CSR/Ethic: Corporate social responsibility and business ethic
Mazni Abdullah, University of Malaya, Malaysia, mazni@um.edu.my, https://umexpert.um.edu.my/mazni.html
EC: Electronic commerce and mobile commerce
Ching-I Teng , Chang Gung University, Taiwan chingit@mail.cgu.edu.tw, http://ibm.cgu.edu.tw/files/11-1031-8954.php?Lang=zh-tw
Khalil Md Nor, Universiti Teknologi Malaysia, Malaysia m-khalil@utm.my, https://business.utm.my/khalil/
Masao Toyama, Chiba Institute of Technology, Japan masao.toyama@it-chiba.ac.jp, https://www.it-chiba.ac.jp/
Qun Zhao, Ningbo University, China zhaoqun1981@163.com, http://www.ndky.edu.cn/jsfc/8583.jhtml
Wen-Chen Hu University of North Dakota, United States wenchen@cs.und.edu , https://engineering.und.edu/academics/electrical-and-computer-science/index.html
IS/IT and Internet: Application and impact of advanced IT/IS/Internet in business management
Harry Keith Edwards, University of Hawaii at Hilo, United States hedwards@hawaii.edu , http://cse.uhh.hawaii.edu/
Leelien Huang, Feng Chia University, Taiwan leelien.huang@gmail.com , http://www.ba.fcu.edu.tw/wSite/ct?xItem=4529c9b1bef66d79&ctNode=43355&mp=460101&submit=%E5%80%8B%E4%BA%BA%E8%B3%87%E6%96%99
Management: Management issues in developing and under developed countries.
Keiichi Yamada, Nakamura Gakuen University, Japap keiichi@orion.ocn.ne.jp , http://wew.nakamura-u.ac.jp
Marinah Awang, Sultan Idris Education University, Malaysia marinah@fpe.upsi.edu.my , http://fpe.upsi.edu.my/
Neha Gangwar Periyar, Management and Computer College (GGSIP University), India gangwar.n12@gmail.com, http://www.pmccdelhi.com/index.php/faculty.html
Sang Long Choi, Raffles University, Malaysia cslong_1@yahoo.com , https://scholar.google.com.my/citations?user=mAjVbbIAAAAJ&hl=en
Vui-Yee Koon, Sunway University, Malaysia vuiyeek@gmail.com , https://university.sunway.edu.my/profiles/subs/dr-koon
Marketing: Marketing and consumer behavior in Internet age
Marcin Gąsior, Lublin University of Technology, Poland m.gasior@pollub.pl , http://en.wz.pollub.pl/pl/departments/department-of-marketing
Shih-Chih Chen, National Kaohsiung University of Science and Technology scchen@nkust.edu.tw , http://www.mis.nkfust.edu.tw/newMis/introduce/view_teacher/46
YingYing Liao, Hamdan bin Mohammed smart university, UAE y.liao@hbmsu.ac.ae , https://www.hbmsu.ac.ae/about/academics/schools/school-of-business-quality-management/dr-ying-ying-liao
Yong Bang, Paichai University, Korea, republic of bangyt@pcu.ac.kr , https://paicon.pcu.ac.kr
Other contemporary management issues: Contemporary new management issues in all fields
Michael Muchiri, RMIT University, Australia michael.muchiri@rmit.edu.au , https://www.rmit.edu.au/contact/staff-contacts/academic-staff/m/muchiri-dr-michael
Ricky Wong, The Hang Seng University of Hong Kong, Hong Kong rickywong@hsu.edu.hk , https://scm.hsu.edu.hk/us/aboutus/faculty/22 Samuel Anantadjaya, IULI - International University Liaison Indonesia, Indonesia ethan.eryn@gmail.com , http://www.iuli.ac.id Sustainable: Enduring commitment to environmental principles in business management.
Deepak Srivastava, CSJM Kanpur University, India ds@psit.ac.in , http://registration.csjmu.ac.in/CSjmu_public/home/ListOfAppovedTeachersCentreWise
Rajesh Kumar Bhaskaran, Institute of Management Technology ,Dubai, United Arab Emirates rajesh@imt.ac.ae , https://www.imt.ac.ae/faculty/finance-accounting/rajesh-kumar-b/
Technology, entrepreneur and innovation: Business management enabled by technology, entrepreneur, AI, and innovation.
Yikuan Lee, San Francisco State University leeyik@sfsu.edu , http://cob.sfsu.edu/directory/yikuan-lee
Yann-Jy Yang, Chihlee University of Technology, Taiwan yjyang07@gmail.com , https://ca100.chihlee.edu.tw/files/11-1028-713.php?Lang=zh-tw
2016-2018 Editorial Advisory Board: (Ranked by Academic Field)

[Accounting and Finance]
Mazni Abdullah, mazni@um.edu.my, University of Malaya, Malaysia, http://umexpert.um.edu.my/mazni
Rich Hsu, richhsu1689@gmail.com, Alpha International Limited, ROC, Taiwan
Rajesh Kumar, rajesh@imtdubai.ac.ae, Institute of Management Technology,Dubai, United Arab Emirates, http://www.imtdubai.ac.ae/drbrajeshkumar/
Torng Her Lee, thlee@gms.ndhu.edu.tw, National Dong Hwa University, Taiwan, http://www.ib.ndhu.edu.tw/files/15-1034-38190,c4621-1.php
Day-Yang Liu, LIUDY@mail.ntust.edu.tw, National Taiwan University of Science and Technology, Taiwan, http://www.fn.ntust.edu.tw/English/e03_01.htm
Mei-Chen Lin, meclin@mail.ntpu.edu.tw, National Taipei University, Taiwan, http://www.dba.ntpu.edu.tw/people/bio.php?PID=20
Yu-Fen Chen, yfchen@mail.dyu.edu.tw, Dayeh University, Taiwan, http://ba.dyu.edu.tw/english/teacher/teacher.html
Ying-Fen Lin, yflin@mail.ndhu.edu.tw, National Dong Hwa University, Taiwan, http://www.management.ndhu.edu.tw/files/11-1014-12936.php
Chia-Ling Lee, leecl@mail2.nccu.tw, National Chengchi University, Taiwan, http://acct.nccu.edu.tw/en/Faculty/tea/%E6%9D%8E-%E4%BD%B3%E7%8E%B2-90988524
Hsing-Wen Han, hwhan1019@gmail.com, Tamkang University, Taiwan, http://www.management.tku.edu.tw/en/info/1652
Chu-Hsiung Lin, chusiung@nkfust.edu.tw, National Kaohsiung First University of Science and Technology, Taiwan, http://www.finance.nkfust.edu.tw/files/11-1035-5665.php?Lang=en
Chih-Yung Wang, cyw@mcu.edu.tw, Ming Chuan University, Taiwan, https://www2.mcu.edu.tw/ePortfolio/Common/Empno.aspx?t=66

[Bargaining, Judgements and Experimentation]
Ricky Wong, rickywong@hsmc.edu.hk, Hang Seng Management College, Hong Kong

[Economics]
Frank Agbola, Frank.Agbola@newcastle.edu.au, The University of Newcastle, Australia
Sarfaraz Ali Shah SYED, syed1937@gmail.com, The American University in Cairo, France

[Management Information Systems]
Shih-Chih Chen, scchendr@stust.edu.tw, Southern Taiwan University of Science and Technology, Taiwan, http://accinfo.stust.edu.tw/en/node/87
Harry Keith Edwards, hedwards@hawaii.edu, University of Hawaii - Hilo, United States
Wen-Chen Hu, wenchen@cs.und.edu, University of North Dakota, United States
Leelien Huang, leelien.huang@gmail.com, Feng Chia University, Taiwan
Khalil Md Nor, m-khalil@utm.my, Universiti Teknologi Malaysia, Malaysia
James Stephenson, jstephen@scc-i.com, Western International University / Grantham University, United States
Jihong Zeng, jzeng@nyit.edu, New York Institute of Technology, United States

[Management, Organization Behavior and Human Resource]
Ezaz Ahmed, e.ahmed@cqu.edu.au, Central Queensland University, Australia
Marinah Awang, marinah@fpe.upsi.edu.my, Universiti Pendidikan Sultan Idris, Malaysia
Sang Long Choi, cslong_1@yahoo.com, Raffles University Iskandar, Malaysia
Neha Gangwar, gangwar.n12@gmail.com, Periyar Management and Computer College, GGSIP University, India
Hussein Ismail, hismail@lau.edu.lb, Lebanese American University, Lebanon
Vui-Yee Koon, vuiyeek@gmail.com, Sunway University, Malaysia
Michael Muchiri, michael.muchiri@rmit.edu.au, RMIT University, Australia
Ahmad Zohdi, a.zohdi@alhosnu.ae, Alhosn University, United Arab Emirates

[Marketing]
Yongtae Bang, bangyt@pcu.ac.kr, Paichai University, South Korea
Marcin Gąsior, m.gasior@pollub.pl, Lublin University of Technology, Poland
Yikuan Lee, leeyik@sfsu.edu, San Francisco State University, https://cob.sfsu.edu/directory/yikuan-lee
Matthew Tingchi Liu, MatthewL@umac.mo, University of Macau, Macau
Eric Ng, eric.ng@usq.edu.au, University of Southern Queensland, , Australia
Deepak Srivastava, ds@psit.ac.in, DR. A P J Abdul Kalam University, India
Ching-I Teng, chingit@mail.cgu.edu.tw, Chang Gung University, Taiwan, http://www.sedona.bz/members/CITeng/cv/
Fredy Roberto Valenzuela Abaca, fvalenz2@une.edu.au, University of New England, Australia
Chung-Chau Chang, ccc@ntu.edu.tw, National Taiwan University, Taiwan, http://exp.management.ntu.edu.tw/en/BA/teachers/101
Yun-Hsiou Yang, yolande@mail.ntpu.edu.tw, National Taipei University, Taiwan, http://www.dba.ntpu.edu.tw/people/bio.php?PID=33
Charles Trappey, charles.trappey@gmail.com, National Chiao Tung University, Taiwan, http://www.ms.nctu.edu.tw/~dmsnctu/members/bio.php?PID=12
Chien-Huang Lin, chlin@mgt.ncu.edu.tw, National Central University, Taiwan, http://ba.mgt.ncu.edu.tw/en_facultymore.aspx?menu=navTeacher1&id=1035&li=1
Clyde Warden, warden@dragon.nchu.edu.tw, National Chung Hsing University, Taiwan, http://140.120.57.9/en-teacher-detil.php?T_NO=33&DM_NO=7&T_KS=13

[OM and IE, MIS, Tech and Innovation Mngt]
David Ang, dang@aum.edu, Auburn University Montgomery, United States
Keith Weiner, keithrn@gmail.com, Molloy College, United States

[Performance Management & Control Systems]
Samuel Anantadjaya, ethan.eryn@gmail.com, International University Liaison Indonesia, Indonesia

[Strategy]
Rodger Morrison, rmorrison@troy.edu, Troy University, United States
Masao Toyama, masao.toyama@it-chiba.ac.jp, Chiba Institute of Technology, Japan
Keiichi Yamada, yamada-k@nakamura-u.ac.jp, Nakamura Gakuen University, Japan
Ching-Sung Wu, cswu1211@ntu.edu.tw, National Taiwan University, Taiwan, http://www.management.ntu.edu.tw/en/faculty/teacher/sn/177


INDEX / DATABASE
CMR is listing/indexing in Scopus, EBSCO host, ProQuest ABI/INFORM, Ulrich's periodicals directory (http://www.ulrichsweb.com/) and Cabell's Directory (http://www.cabells.com/) of Publishing Opportunities in Management, the Index of Information Systems Journals.
========================================